Most modern countries would, at least in the official sense, expound some form of separation between religion and politics (otherwise known as "Separate of Church and State).

While some democratic nations, such as Great Britain, do recognize an official religion (E.g: Anglican Church for Brits, Roman Catholicism for Italians), these nations are largely secular in terms of jurisdiction (One would be hard pressed to find anyone in Great Britain being persecuted for the blameless crime of blasphemy today), and the idea that a full-fledged theocratic nation can function efficiently in today's largely globalized world is, to put it bluntly, archaic in the worst possible sense.
Having said that, secularization of governments have often been vehemently opposed, or even denied, by some sections of the religious community (Usually Fundamentalist).
United States of America
One of the prime examples of this secularization is none other than the United States of America, although judging by the ubiquitous harangues of the fundamentalist rights movement, who seem hell bent on drowning out the voice of reason, it seems almost sacrilegious to claim that America was, and is still essentially a secular, democratic nation.
The Founding Fathers of America



Founding Fathers of America
The basic tenets of what is known today as the US Constitution and the Declaration of Independence were authored by a team of enlightened leaders, otherwise known as the Founding Fathers of America.

The Secularist Movement
The Founding Fathers of America were not all atheists (Some probably were, but that is not the point), but they were definitely secularists.

Having witnessed first hand the evils wrought forth by the terrible tentacles of organized religion, the Founding Fathers wisely sought, and even went out of their way, to ensure that such a travesty would not entrench itself in the cradles of a new, emerging nation.

In laying the blueprint for the First Constitution, all the Founding Fathers were quite adamant that religion should be allowed to co-exist amongst the masses, but must remain strictly separate from the affairs of the State.

The First Amendment
The
First Amendment of the Bill of Rights
was drafted initially by President James Madison in
1789
: It was a knee jerk reaction towards the different ideological stances held between
Federalists
and
anti-Federalists
.
Realizing the dangers of theocracy and the ill-effects of creating a
hegemony
under the banner of "state religion", James Madison was quite adamant that future US Administrations must never be allowed to officiate or create an external official religion that would threaten to overwhelm secular governance.
The
First Amendment
, under the
Bill of Rights
, explains it succinctly:
Congress shall make no law respecting an establishment of religion, or prohibiting the free exercise thereof; or abridging the freedom of speech, or of the press; or the right of the people peaceably to assemble, and to petition the Government for a redress of grievances.

Aptly named, The Bill of Rights was a masterstroke of pure genius: Not only did it prohibit the establishment of any form of state religion, it guarantees the right of the average American to free speech, freedom of religion and peaceful assembly.
US Constitution: An Enlightened Document (Not the Bloody Babble, err.....I mean Bible)



You could search through the annals of the damn holy babble/bible and all its 66 nonsensical chapters, and you wouldn't find one damn verse to rival the Bill of Rights.
Religious Lobbying Against Secularized Governance
More often than not, fundamentalists bemoan about the lack of religiosity of secular government:their persistent lobbying to infiltrate official school prayers and the teachings of
religious
pseudo-science in public schools attest to their continual disenchantment with secular governance.
Like well-oiled machines, religious fundamentalist propaganda has a sneaky ability to
over-dramatize
issues: They claim that their respective religious creeds are being threatened and undermined because their incessant need to infiltrate their religious creeds are somehow tangible to their individual rights, which really isn't the case.
Migrant Societies and The Need for Neutrality & Solidarity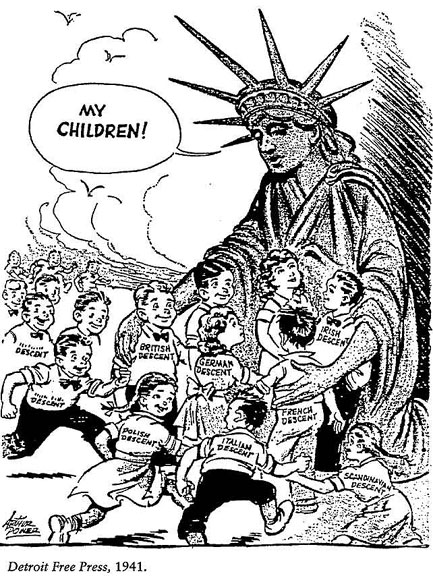 Different races, different creeds, but most importantly, one united people
The unbridled truth is this: Unlike other homogeneous countries, such as Japan and England, America is a potpourri of many races, cultures and creeds. As in most immigrant nations, America has to contend with people from various racial and religious backgrounds.

For people of multiple, diverse identities and creeds to live and work together, there must be an environment that allows room for almost every religion to co-exist peacefully, and in order to achieve this common ground, a consensus must be reached that allows for neutrality and impartiality to all sides of the fence.

A secular government, free from the bias and influences from any dominant religious group, paves the way to achieving this state of harmony. By not appealing to any religious creed (no matter how powerful it may be), everyone is allowed a fair playing ground to operate on.

For example, a Muslim who works in a government institution will surely not appreciate the sign of a cross being displayed on the wall. While the Muslim will not show his or her displeasure, he or she will be wondering why the cross is displayed in the first place, given that the government institution is not a place for proselytizing. This doesn't equate, however, to a total ban on religion: One could read the bible and the Koran in an official government building, so long as it is kept private and unofficial.

In sum, the separation of church and state is the best status quo for America, as well as nations with large, diverse, immigrant communities. Any attempt by Christian groups or any other religious groups to circumvent this secular status would create a kind of social instability that would breed contempt and distrust towards a quasi-secular, limping government.