Often times, I have come across websites, such as "
AnswersInGenesis
" (Judging from the title, it is obvious that this website isn't really about Science), which shamelessly debunk the basic tenets and empirical methods of Science.
Being the intellectual equivalent of hucksters and mobsters, Creationists of these sort are apt to criticize the Scientific Method in a bid to construe evidence to fit into their biblical bullshit. They thraw through scientific literature, pick the parts that supposedly criticize a scientific method, and put up claims that mainstream Science is bogus. These deranged fundamentalists are not interested in Science; they don't carry out any field work or research. All they ever do is throw around their banter and how that someone, somewhere, will lap up and believe in their God-induced beliefs, which coincidentally, have not scientific merit whatsoever.
So, without further ado, I would like to proceed to one of the more controversial topics amongst the Creationist community (not the Scientific Community): Carbon Dating.
Long regarded with as much vitriol as Darwin's revolutionary idea of Evolution, carbon dating debunks the "Young Earth" Creationist Model: Because of its ability to date fossils upwards to 60,000 years, radiocarbon dating has long been regarded as Darwin's (Read Satan's) advocate.
History Of Radio-Carbon Dating
Discovered by
Willard Frank Libby
and his colleagues in 1949, during his tenure as a professor at the University of Chicago, Libby invented what would eventually change the face of archaeology by giving a time frame to fossilized specimens.
Libby estimated that the steady state radioactivity concentration of exchangeable carbon-14 would be about
14 disintegrations per minute (dpm) per gram
.
In recognition of his work, he was awarded the Nobel Prize in chemistry in 1960.
The Mechanics of C-14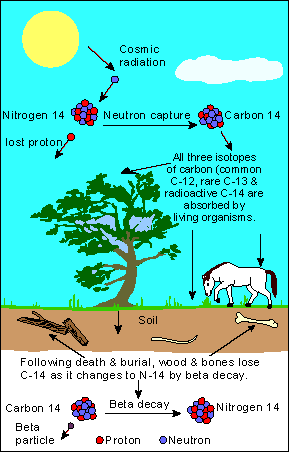 Before I begin to illustrate the basics of carbon dating (otherwise referred to as radiocarbon dating), it is prudent to explain how Carbon-14, the carbon compound that serves as a testing material for dating carbonaceous, fossilized matter.
Everyday, cosmic rays enter through Earth's atmosphere, bringing about certain chemical reactions which are essential for the sustainence of life on this planet.
When a cosmic ray collides with an atom in the atmosphere, a secondary cosmic ray is formed in the form of an energetic neutron.
When this neutron collides with a nitrogen atom (N-14), a chemical reaction takes place: The Nitrogen 14 (seven protons, seven neutrons) converts into a carbon-14 aom (six protons, eight neutrons) and a hydrogen atom.
Why C-14?
Because C-14 is constantly being absorbed by plants for the purpose of photosynthesis, the natural cycle of C-14 (Radioactive Carbon), along with C-12 (non-radioactive carbon), is constantly absorbed to other animals via the food chain.
Every living plant and animal has roughly the same ratio of C-14 to C-12, which is about
1: 1 trillion
. As such, the absorption rate is fairly constant, that is, until death starts to kick in.
When an animal dies, the animal stops absorbing carbon, for the obvious reason that it no longer can consume food. At this point, the C-14 atoms begin to decay, while the C-12 atoms remain constant.
Because of C-14's ability to decay in contrast to C-12's constant, a prediction can be made towards the age of a fossil.
Characteristics of C-14
One of the most important properties of C-14 is its
half-life
: A half-life refers to the time whereby the number of a certain atom disintegrates or decays by half its original number.
Radiocarbon C-14 has a half-life of about 5,700 years. In short, it takes 5,700 years to reduce C-14 by 50%, another 5700 years to reduce to 25%, and so on, at an
exponential rate
.
The formula for C-14 dating is:
t = [ ln (Nf/No) / (-0.693) ] x t1/2

-ln is the natural logarithm;
-Nf/No is the percent of carbon-14 in the sample compared to the amount in living tissue;
-t1/2 is the half-life of carbon-14 (5,700 years).
Problems Faced Using C-14 Dating Method, & Ways To Overcome Them
The truth is, C-14 decomposition is highly consistent, with a margin error of plus or minus 40 years. That, in scientific parlance, is a very good tolerance.
The real problems of C-14 and its so-called erroneous readings, however, have more to do with the natural elements than the consistency of its decay.
1. Exponential Decay
One of the more severe problems has to do with exponential decay: Because of its ability to decompose, most C-14 work can only be carried out on objects with a maximum age of 60,000 years, as counting decayed C-14 for older objects become more arduous due to the extreme lack of C-14 atoms.
In short, the older the object, the wider the discrepancy. Any fossil more than 60,000 yrs old would have too little C-14 to carry out any meaningful C-14 dating.
In order to circumvent this problem,
Accelerator-based mass-spectrometric (AMS) techniques was
introduced
:
All the 14C atoms can be counted directly, rather than only those decaying during the counting interval allotted for each analysis. The AMS technique allows one to date samples containing only a few milligrams of carbon.
2. Varying C-14 Compositions
Variations of C-14 compositions in the atmosphere (Up to 1%, according to Hessel de Vries, a Dutch physicist at the University of Groningen).
3. Natural Causes
Certain natural phenomenon, such as changing climates, can affect C-14 flow in the atmosphere, hence affecting absorption rates by plants and animals.
In order to resolve this discrepancy within a certain tolerance,
calibration charts
are often used to mediate the readings. Various calibrations may include distortions caused by magnetic disturbances or abnormally high C-14 concentrations found in the vicinity of the fossil's environment.
4. Man Made Causes

C-14 concentration can also be affected by human activities:
i. It was almost doubled for a short period due to atomic bomb tests in the 1950s and 1960s.
ii. C-14 concentration was drastiscally reduced by the release of large amounts of CO2 from ancient organic sources where C-14 is not present (i.e Fossil fuels). This was known as the
Suess Effect.
For this reason, raw, uncalibrated readings before 1950 are classified under
BP (Before Present)
, which indicates the number of years of an object in relation to the 1950 date. This was the date given in part because of the absence of large-scale nuclear testing, particular in the Northern Hemisphere, which increased atmospheric C-14 dramatically.
Conclusion
Radio-carbon dating has been shown to be pretty consistent, once external factors, such as environmental carbon content are pretty much factored in and calibrated into the readings.
While Creationists keep harping about the inconsistency of Carbon Dating, they tend to "negate" that Science has kept up with the times: Much has been known about C-14 levels and its interactions with the natural processes to provide a more accurate intepretation of C-14 data, and advanced techniques such as the AMS has dramatically assisted in providing more accurate readings.
If Creationists and other religious fundamentalists want to play in the real world of science, they'd better do some real research before babbling their bullshit and pandering them around as Science.
A Scene From the Flintstones Family: Great Fun For Family, A Disaster For National Education
Sure they can build their fancy Creationist Museums with their saddled Triceratops and some really impressive computer animatronics (no thanks to Hollywood animationists who sold their national conscience to rich fraudsters), but when it comes to real Science, I will suggest that they let the real scientists do the real work instead.